Nutrireset is a centre that combines beauty treatments alongside relaxation and wellness programmes to promote physical and mental health.
This beauty and wellness centre offers its clients a wide variety of services using natural, sustainable and vegan products that give the experiences it offers added value and quality.
From complete beauty, skin and personal care experiences to 100% personalised nutritional advice sessions.
All this is what you can find in one of the best rated beauty centres in the country.
Experiences at Nutrireset
Treatments and experiences offered by Nutrireset.
The Art of skin care
One of the programmes specially designed to help you disconnect from your daily routine so that you can connect with your essence and rediscover all that you are worth.
The art of taking care of yourself
It is an exclusive programme created just for you. Thanks to it you will start a new healthy life, with a comprehensive advice on healthy habits, conscious eating and personal image.
Specialising in caring for people's wellbeing.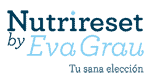 Specialised in taking care of people's wellbeing, Nutrireset offers its clients complete experiences of relaxation, calm and wellbeing on both a physical and mental level.
In the field of facial treatments, for example, Nutrireset offers a wide range of services ranging from facelifting treatments to lymphatic drainage, eyebrow and lip waxing and personalised peelings for each type of skin.
Likewise, in the field of body treatments, Nutrireset offers complete lymphatic drainages also suitable for pregnant women, as well as postpartum treatment programmes with hypopressive exercises.
In addition, in terms of relaxation, personal care and wellness rituals, the centre also offers facial massages that help to rejuvenate the face, reduce wrinkles and slow down the ageing process to look young, fresh and healthy for longer.
And if you are looking to learn about how to nourish yourself better, with the "Cooking the change" programme you will learn how to implement healthy lifestyle habits in your daily life and you will be introduced to vegan or vegetarian cooking in an easy and fun way. All so you can focus on taking care of yourself.
A great professional, it shows that she loves her work. She always recommends what works best for your skin. Do not miss the opportunity to put yourself in her hands, the result is fantastic. Your skin will have its best version! And above all, enjoying their treatments is a luxury for you and your skin!
Nothing better than taking advantage of the holidays to take care of myself and be surrounded by nature. It has helped me to start healthy habits, it is a natural bet for your inner beauty that is expressed on the outside and always accompanied by an excellent professional. The products are top quality and the center is wonderful.
Spectacular beauty ritual. The results of Facial Yoga are wonderful and it leaves the skin very relaxed. I fell in love with the Kobido massage, I noticed more luminous and rejuvenated skin, I have been very happy with the results. Eva, very perfectionist in her work. She knows how to listen and personalizes the treatments based on your needs.